At a BMW tire center, you can count on having the tires specified for your BMW, installed by experienced technicians. The tire shop at BMW of Stratham helps drivers in Stratham, Portsmouth and Exeter find the tires that make the perfect fit. Whether you need brand-new BMW Approved Tires or repair of existing tires, you can count on our technicians to get the job done and ensure a safe trip every time you step inside your car.
BMW Approved Tires
When buying BMW Approved Tires from a BMW tire center, you know you're getting the right fit for your specified model.
There are many reasons why you should buy BMW Approved Tires. These include:
Tire is guaranteed to be an approved tire
Immediate availability
Installed by BMW trained technicians
Installed with BMW equipment
Whether traveling the roads in the classy 5 Series or taking on country roads in the X5, having the right tires to reach any destination helps. Tires are developed and tested in collaboration with manufacturers for total safety, handling and performance. Every BMW Approved Tire is tested and matched to individual models to provide the best possible acceleration, tight handling and efficient braking.
Tire Services Offered at BMW of Stratham Tire Shop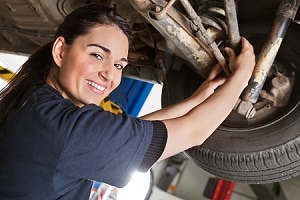 Our tire center technicians know tires need some attention every now and again. Our factory-trained technicians offer many tire-related services:
Tire rotations: Tires need to be rotated so they stay in usable shape. Every wheel functions on its own, so every tire experiences different wear and tear as you drive. To ensure more even wear of all four tires, they'll be rotated as needed.
Alignments: Tires handle many surfaces when driving. Due to these varying surfaces and roadways not always being 100% smooth, wheels can become misaligned. If you notice the car pulling to one side while driving or a visual inspection of the tires reveals uneven tread wear, an alignment will be completed.
Pressure monitoring: Properly inflated tires mean better fuel economy and an easier ride. If your tire pressure is low and you've tried to fill them to no avail, let us look at the issue.
Visit Our BMW Tire Shop Today
New tires offer better performance, comfort and safety. At BMW of Stratham, we'll install tires approved for your BMW. Make sure you have the right tires to take on the roads of Stratham, Portsmouth and Exeter! Schedule your tire service online today.