So, you've finally found the BMW of your dreams, and you're prepared to start the purchasing process. Suddenly, you realize that there's more than one way to finance your vehicle. When it comes to Leasing vs. Buying your car, how do you know which choice is best for you?
Thankfully, we're here to help you understand the differences between these two unique buying options and how they can both benefit you. With this free Leasing vs. Buying a BMW eBook, you'll get an education on the advantages and drawbacks to each car buying method.
Throughout this guide, you'll be privy to tons of helpful information that makes the specifications between these options much easier to understand, some of which include: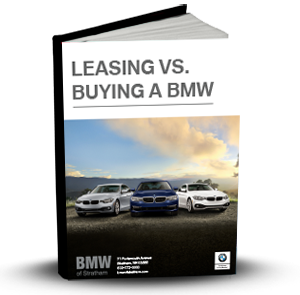 Understanding BMW auto loans
Understanding BMW leases
Differences between buying and leasing a BMW
Benefits and drawbacks of buying and leasing
Which option is best for you
With the details offered in this handbook, you'll be able to expertly navigate the land of BMW financing so you can spend less time in the dealership and more time enjoying your new BMW.
On top of that, this free eBook comes packed with coupons that'll help you save big when it comes time to buy or lease your BMW.
So, don't hesitate to start learning more about just how easy it is to finance a stylish and aggressive new vehicle. Simply fill out the form to download, and you'll be on your way to becoming a leasing vs. buying expert!