2018 BMW 320I Review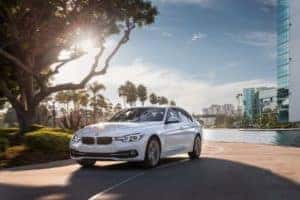 When you want to soar down the road in style, nothing should hold you back. And with the right tools, your next drive through Stratham, Portsmouth, and Exeter could be more electrifying than you ever imagined.
But to truly soak up the thrills of an agile ride down those curvaceous back roads, only the 2018 BMW 320i will fulfill all your sports car dreams. With a potent powertrain, a suite of advanced entertainment, and a cabin filled with luxurious amenities, this car pushes past where others settle.
To understand just how finely furnished this sedan really is, let's dive into this 2018 BMW 320i review created by BMW of Stratham. After you get a taste for the details of this vehicle, you'll be ready to take it along with you on all your adventures.
Specs
While you're seated behind the wheel of the BMW 320i, nothing will stand between you and a breathtaking drive. Hiding beneath the hood of this sports car sits a 2.0L turbo motor that pumps out 180 horsepower and 200 lb-ft of torque. With those numbers, you'll soar to top highway speeds in the blink of an eye.
During your ride through the countryside, you've got to be equipped with lots of ways to harness all the strength churned up by that impressive motor. Luckily, that's exactly what you'll find inside this specific BMW sedan.
Driving Dynamics Control comes standard in this sedan and offers up a variety of settings that adjust the feel of your vehicle. These selections include ECO PRO, COMFORT, and SPORT. That way, you can customize the way your automobile performs to suit your mood.
Technology and Convenience
Staying engaged on the road is the key to vehicular happiness. And when you want to jam out to your favorite tunes, your 2018 BMW 320i will support your desires with its responsive 6.5-inch touchscreen display. From here, you'll easily access all your favorite gadgets, such as HD Radio™, SiriusXM®, Bluetooth®, and so much more.
As if that weren't enough, optional BMW Navigation offers up a brightly-lit path to your events and automatically updates your route with Advanced Real-Time Traffic Information. That way, you won't risk arriving late to your next dinner party.
We know how important it is for you to stay connected with all your devices. That's why the BMW 320i comes packed with an array of features that'll keep you in touch with your smartphone. Wireless charging and a Wi-Fi hotspot are both available in this sedan and allow you to restore your phone's battery or surf the web in remote locations.
Interior
While you're focused on your drive, you should be surrounded by soft, comforting materials. When experiencing the BMW 320i's interior, you'll discover everything you need to stay in the know and fully unwind.
During those tough, parallel parking situations, this vehicle will provide visual and audio alerts so that you know when you're nearing the car behind you. And from the touchscreen display, you'll see how far the front and rear bumpers are from other automobiles. That way, you'll perfect your city parking skills.
Plus, the 2018 BMW sedan also features 6-way adjustable front seats, which allow you to adapt the position of your chair to suit your height. With this amenity, you'll always have a clear view while governing every move of this dynamic car.
Test Drive Your 2018 BMW 320I
At BMW of Stratham, we strive to help drivers of Stratham, Portsmouth, and Exeter dominate your next journey with an aggressive automobile. And when you're the owner of a 2018 BMW 320i, you'll enjoy every moment in your vehicle like never before.
So, instead of settling for a ho-hum sedan, arm yourself with a car that can do it all. Stop by our showroom or contact us today!