BMW Lease

When getting a new car near Stratham, Portsmouth, or Exeter, one of the first decisions you'll have to make is which model to get. Then, you'll need to decide if you want to choose a BMW lease or purchase your new car.
We'll help you with that decision through our information on BMW leases. Read through the details below, and don't hesitate to contact us at BMW of Stratham if you have any questions.
Benefits of a BMW Lease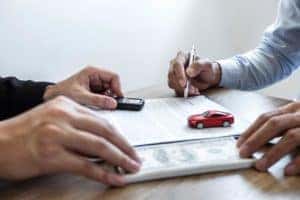 There are many reasons why some people prefer leasing over buying a BMW. It's a great option for those who like getting a new vehicle every few years. When your lease is up, simply return it to the dealership for a new one.
Plus, since a lease term usually lasts about three years, you can stay ahead of the curve when it comes to the latest technologies and features.
You'll also be paying less overall, both initially and each month of the lease term. When you take out an auto loan, you're usually required to put down 10-20% of the car's cost up front. With a lease, you can put down less initially, and in some cases, you may not have to put down any money at all. However, keep in mind that the more money you put down initially, the less you'll need to pay per month.
Furthermore, you only have to pay for the car's depreciation during a lease. Meanwhile, financing a car requires you to pay off its entire cost, hence why it's usually more overall.
Find a BMW To Lease
We have lots of BMW vehicles that you can lease, such as the 320i, 430i, and X1. Our sales department will help find the right one for you. We'll even let you test drive a few models to help decide which is the best for your needs and lifestyle.
When you've found the perfect model, you'll want to visit our finance center to start the leasing process. We'll guide you through every step, so you can feel confident with the whole procedure.
We'll also be there for you when the lease term is coming to an end. We'll help you decide if you want to trade in the car for a new lease or if you love it so much that you want to buy it. Whatever you decide, we'll be there to assist you.
Lease a BMW by Model:
Lease a BMW At BMW of Stratham Today!
If you're ready to lease a BMW, then visit us at BMW of Stratham. We'll help you get the right vehicle for your trips around Stratham, Portsmouth, and Exeter.
We look forward to working with you!
---