BMW X3 Lease

If the BMW X3 is your dream car, you'll need to decide if you want to buy or lease it. Both have their benefits, but today, we'll specifically be talking about leasing.
We'll go over why leasing may be right for you and some of the offers that we have at BMW of Stratham. If you live near Stratham, Portsmouth, or Exeter, and you're thinking of leasing the BMW X3, then keep reading!
Our BMW X3 Lease Offers
Benefits of Leasing a BMW X3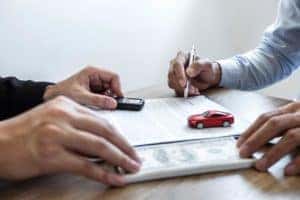 Leasing is great for drivers who always want the latest features. Since lease terms typically last three years, you'll consistently have a vehicle with the most cutting-edge technologies.
Plus, you'll generally be paying less per month than if you were financing the car. This is because you're just paying off the depreciation, along with taxes and other fees.
Another great thing about leasing is that you won't need to get any major repairs or maintenance done to the car. Since you'll only have the BMW X3 for a few years, you'll just need to get oil changes, tire rotations, and other simple maintenance tasks. By getting the standard maintenance completed, you'll have a well-running automobile for the duration of your lease term.
Furthermore, we have leasing offers for the BMW X3 that you can take advantage of. They allow you to pay a low rate per month on this vehicle. For more information, check out our website or contact our finance center directly.
All About The X3

The BMW X3 is known for having a strong performance, spacious cabin, and premium interior.
It comes standard with a 2.0L 4-cylinder engine that delivers 248 horsepower and 258 lb-ft of torque. For even more power, there's an available 3.0L 6-cylinder engine that puts out 355 horsepower and 369 lb-ft of torque.
The vehicle comes standard with the xDrive intelligent all-wheel drive system to take on any type of road. It'll constantly monitor road conditions and send power to the wheel with the most grip to improve overall traction.
The X3 easily seats five, with 40.3 inches of front legroom and 36.4 inches of rear legroom. Plus, it has up to 62.7 cubic feet of cargo space for shopping bags, luggage, and other personal items.
This SUV also has an attractive cabin, with trims in Dark Oak Wood or Aluminum Rhombicle. There are also 10-way power front sport seats, so you can get in the right seating position.
Three-zone climate control comes standard, so everyone on board can get as warm or as cool as they'd like. Plus, heated/ventilated seats and a heating steering wheel are available to stay cozy, no matter the temperature outside.
Lease a BMW X3 Today
If you're interested in leasing the BMW X3, then contact the finance center at BMW of Stratham. Our expert team is here to make the process as easy and streamlined as possible. Before long, you'll be driving around Stratham, Portsmouth, and Exeter in a brand-new X3.
So, don't wait. Contact us to start the leasing process today!