Best Bakeries near Stratham NH to Sweeten Your Day

It's no surprise why people love cake so much. It's rich and full of flavor. Plus, it's great for any occasion, be it a small birthday party or a grand wedding.
If you're looking for some delicious dessert in the area, we think these best bakeries near Stratham, NH, take the cake. Keep reading to learn all about them!
Cakes by Elizabeth
Selling Detailed, From-Scratch Cakes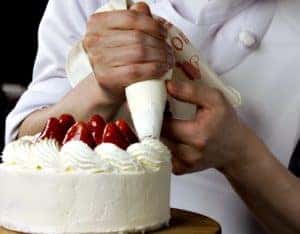 By ordering from Cakes by Elizabeth, you're getting delicious cakes while also supporting a local business.
In fact, this company is run solely by Elizabeth Jones out of her licensed and insured home in Exeter, NH. While it's a one-woman job, she doesn't cut corners. Everything is baked from scratch and never frozen. She also carefully decorates every cake to ensure it brings the customers' visions to life.
Whether you need a wedding cake for your upcoming nuptials, or a smash cake for your little one's first birthday, Elizabeth can create something beautiful and yummy.
First, you'll want to choose the actual cake flavor, such as White Almond or Cinnamon Swirl. Next, decide on the filling, be it Chocolate Ganache or Cream Cheese. Finally, you'll need to choose a buttercream. You really can't go wrong with any option, be it Raspberry, Coconut, or Mint Chocolate Chunk.
Check out the one-of-a-kind creations on the Cakes by Elizabeth Facebook page.
Sweetened Memories
Creating Cakes for Every Occasion
If you need a cake for a birthday, wedding, or graduation, Sweetened Memories can help you out.
That's because they're a licensed and certified homestead bakery creating tasty treats with truly one-of-a-kind designs. You can even get your desserts in different shapes and sizes. Whether you need a small smash cake, a large multi-layered cake, or a set of cupcakes, they'll provide it for you.
Furthermore, they have a wide variety of flavor combinations to choose from, such as:
Cookies & Cream Supreme: chocolate or cookies and cream cake with cookies, cream filling, and vanilla buttercream.
All About the Fun: funfetti cake with strawberry crème filling and vanilla buttercream.
Lemon Raspberry Dream: lemon raspberry swirl cake with raspberry preserves and lemon buttercream.
Need ideas for your next event? Take a look at the Sweetened Memories Facebook page for some impressive inspiration photos.
Enjoy the Sweeter Things in Life near Stratham NH
It doesn't matter if you have a big party coming up or are just in the mood for some dessert. With these bakeries near Stratham, NH, you can have your cake and eat it, too.
To get started on finding a sweet treat in the area, contact or visit one of these bake shops today!