Navigate Through the Best Corn Maze in Stratham NH

There's lots to do in the fall in Stratham, NH, from Oktoberfest to annual Pumpkin Festivals. However, there's something to be said about stopping by the local farm, especially to go through a good old-fashioned corn maze.
Below, we'll tell you about the best corn maze in Stratham, NH, found at Scamman Farm. Discover what kind of fun you can have here, then stop by with your friends or family this fall!
Like on Facebook | Follow on Instagram
The History of This Local Family Farm
While the Scamman Farm that locals know today was created in 2010, it actually goes back to 1776. This is when the farmhouse was built and has been everything from a chicken farm to a draft horse farm.
In 1972, Doug and Stella Scamman purchased the farmhouse and surrounding land to create a dairy farm known as Bittersweet Farm. Then in 2010, their son Kirk and his fiancée Sue Fernholz founded the current Scamman Farm.
Today, visitors get to enjoy the 300 acres of land, which contains two greenhouses, a pumpkin shack, and the famous 6-acre corn maze.
Exploring the Corn Maze
While the farm contains lots of attractions, it's the corn maze that gets people coming back time and again.
This 6-acre field has tons of twists and turns for a fun challenge. Plus, the corn stalks grow up to 12 feet tall, for a fully immersive experience.
Never expect the same thing twice, either. That's because every year, the field's design changes. So, whether it's your first time at the maze or your fifth, a new challenge will await you each time!
You can actually rent the maze for a private party, too. For two hours at night, the maze is all yours. You'll also get to use a big tent and picnic tables for refreshments—great for a birthday or other fun event!
More Excitement on the Farm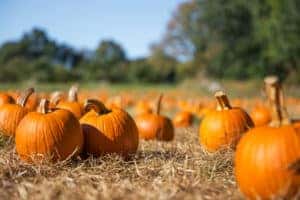 As we mentioned before, Scamman has tons of things for people of all ages to enjoy. This includes hayrides and a pumpkin patch to pick the perfectly sized gourd.
There's also the Pumpkin Shack, where you'll find home-grown produce, free-range eggs, and other goodies for sale.
Alongside the Pumpkin Shack is the Seacoast Community Marketplace. It's held every Saturday in September and October from 10:00 a.m. to 2:00 p.m. Here, a number of different vendors sell farm-raised vegetables, pies, homemade soaps, and more. Some vendors you may find here include:
August Block Farm
Ladybug Jewelry
Twilight Farm & Fiber
Find Your Way Out of This Stratham NH Corn Maze
If you're up for a unique challenge this autumn, check out the corn maze at Scamman Farm. We hope to see you there!