BMW 330I vs Audi A4

---
You've got a need for speed. So, when it comes to your vehicle, don't settle for something that won't deliver all your desires along the roads of Stratham, Portsmouth, or Exeter. Instead, opt for the spine-tingling strength of either the 2021 BMW 330i or the 2021 Audi A4.
Still, for industry-leading performance, luxurious amenities, and top-notch comfort, only one of these vehicles will raise the bar across every category.
To see which of these agile automobiles crosses the finish line first, check out our BMW 330i vs. Audi A4 car comparison created by the team at BMW of Stratham. Once you get a sense of the details found in these cars, you'll know which option is better for you. Contact us with any questions as you read along!
---
BMW 330i vs Audi A4: Engine Specs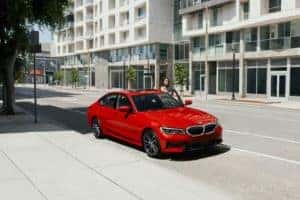 After the highway opens up and you hit the accelerator, make sure you're met with a dose of electrifying force. That's why the 2021 BMW 330i comes packed with a standard 2.0L BMW TwinPower Turbo 4-cylinder engine that pumps out 255 horsepower and 294 lb-ft of torque.
BMW 330i Specs: 
255 horsepower
294 lb-ft of torque
Audi A4 Specs: 
201 horsepower
236 lb-fit of torque
To harness all that power, the BMW sedan also includes an intuitive 8-speed Sport Automatic transmission with Sport and Manual shift modes. With this device, every surge of your vehicle will be met with the appropriate gear, no matter what.
Alternatively, the 2021 Audi A4 features a 2.0L engine that produces 201 horsepower and 236 lb-ft of torque and includes a 7-speed transmission. Without the powertrain or performance numbers set forth by its BMW competitor, you may find this automobile doesn't quite meet your expectations.
BMW 330i vs Audi A4: MPG & More
Whether you're cruising through the city streets or opening it up on the highway, fuel efficiency is going to be important in a sedan like the 2021 BMW 330i or the 2021 Audi A4.
When both models are equipped with their standard engines, the 330i just edges out the EPA-estimated 25 city/34 highway MPG of the A4 with an EPA-estimated 26 city/36 highway MPG fuel economy of its own.* Both sedans feature fuel tank capacities of just over 15 gallons.
When you get behind the wheel of brands like BMW and Audi, speed and acceleration are almost always going to be on your mind. Both the 330i and the A4 feature top speeds of 130 MPH. However, once again, the 330i earns another leg up with a 0 to 60 MPH acceleration time of 5.6 seconds compared to the 6.3 seconds of the A4's standard 40 TFSI® engine.
BMW 330i vs Audi A4: Interior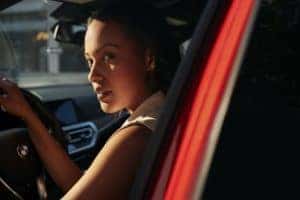 Your seat behind the wheel of your sports car should be as comfortable as possible. Luckily, the cabin of the BMW 330i soothes your body after a long day at the office with its standard 10-way power-adjustable front seats. That way, you can adjust the position of the driver's seat to suit your preference.
On the other hand, the Audi A4 comes with a pair of 8-way power front seats, which won't provide the same level of customization as those found inside the BMW 330i. So, during those long drives to your favorite vacation destination, you may prefer to be driving the BMW.
With either option, you'll enjoy those beautiful, sunny days with the standard power sunroof of the A4 and the 330i's standard 2-way power glass moonroof with "one-touch" operation and power interior sunshade.
When the weather outside isn't as agreeable, you'll want to take comfort inside your sedan. The automatic 3-zone Climate Control of the 2021 330i will help you do so with ease. With the advanced memory systems of the 330i, you can even program your BMW to remember all your preferred seat, mirror, and climate settings.
330i vs A4 Interior Dimensions
While the power-adjustable seats of the BMW 330i and the Audi A4 will certainly help keep you comfortable, you'll want to assure the comfort of your passengers as well.
Both sedans provide plenty of room from the front seat to the back row, including their fair share of cargo space. Here's how their cabin interiors stack up:
| | | |
| --- | --- | --- |
| | BMW 330i | Audi A4 |
| Legroom (front/rear) | 42/35.2 inches | 41.3/35.7 inches |
| Headroom (front/rear) | 38.7/38.7 inches | 37.3/37.4 inches |
| Shoulder Room (front/rear) | 56/54.6 inches | 55.9/54.5 inches |
| Cargo Volume | 13 cubic feet | 12 cubic feet |
| Seating Capacity | 5 | 5 |
As you can see, both models offer ample room in both rows as well as sufficient cargo space, but the 2021 BMW 330i provides just a bit more in those crucial areas to take the upper hand once again.
BMW vs Audi: Comparing Technology & Innovation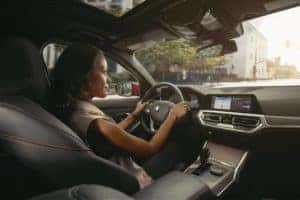 When you have lots of clients and co-workers to stay in touch with, connectivity is everything. Inside the 2021 330i, you'll be equipped with a suite of intelligent tools that will help you access all your important information.
For example, you won't be forced to go without a connection to the Internet—even in the most remote location—with this car's available Wi-Fi Hotspot. If your smartphone's battery is on its last breath, restore its lifeline with the optional wireless charging port.
While the 2021 A4 also presents an available Wi-Fi Hotspot, this sedan doesn't offer gadgets like a wireless charging port. That means, you may find yourself in a situation without access to your phone.
Both sedans also feature a wide array of connectivity applications. Not only will these features keep everyone entertained, but they can also offer some crucial help when you're behind the wheel. While the A4 makes a push with integrative features like Google Earth™ and Amazon® Alexa capabilities, the 330i comes standard with Apple CarPlay™ and Android Auto™ connectivity as well as hands-free Bluetooth®.
---
BMW 330i vs Audi A4: Which Will You Choose?
After reviewing the details of the technologies contained inside these sedans, it's likely you're ready to take on the roads of Stratham, Portsmouth, and Exeter. With the BMW 330i as your comrade on the highway, you'll tackle every obstacle better than ever before.
To explore the cutting-edge amenities contained in this agile road cruiser further, stop by the showroom at BMW of Stratham or contact us to schedule your test drive today!
---
* Preliminary EPA-estimated figures are for comparison purposes only. Your actual mileage will vary, depending on speed, driving habits, trip length and driving conditions; actual mileage may be lower. Note for MPGe: All data are provisional and subject to official confirmation. The provisional power consumption figures have been calculated based on the ECE test cycle.