---
During your time on the roads of Stratham, Portsmouth, and Exeter, NH, you should be surrounded by luxurious amenities, top-notch performance, and cutting-edge technology.
With either the 2021 BMW 330i or the 2021 Mercedes-Benz C300, you'll soar down your path to work armed with plenty of high-end details. If you're looking for a sedan that goes above and beyond, only one of these options is perfect for you.
To get a first-hand look at which of these speed demons crosses the finish line first while you're surrounded with premium comfort, let's dive into this BMW 330i vs. Mercedes-Benz C300 vehicle comparison, created by BMW of Stratham. Before long, you'll be seated behind the wheel of your ideal ride.
Keep reading to get started or skip to browsing our BMW 3 Series inventory right here.

BMW 330i vs Mercedes-Benz C300 Quick Facts

330i

C300

8.8-inch center display screen
255 horsepower
38.7 inches of front headroom

10.25-inch center display screen
255 horsepower
37.1 inches of front headroom
---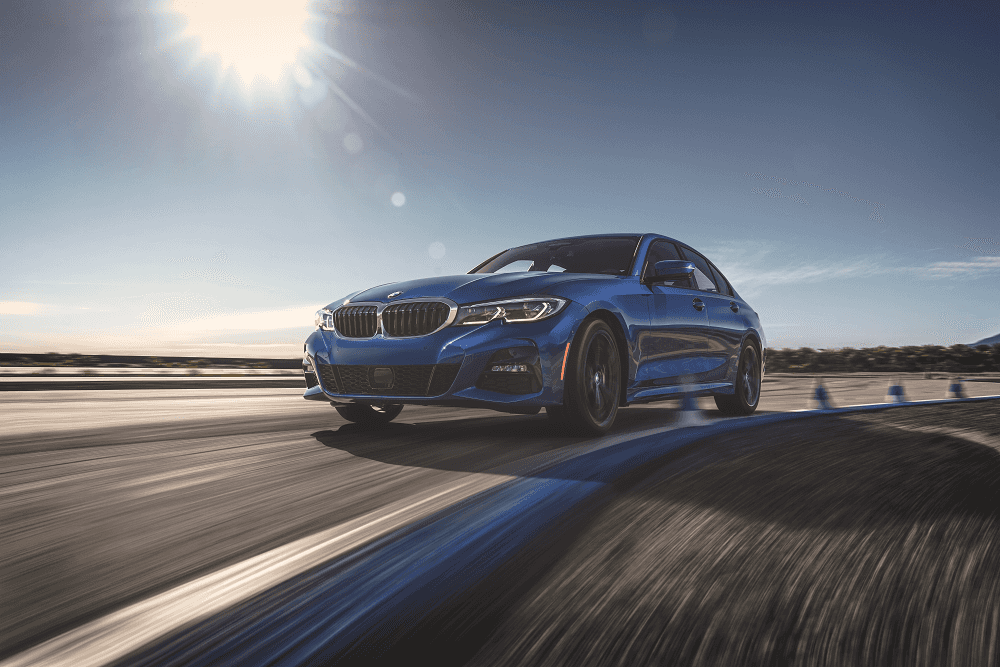 BMW 3 Series vs Mercedes C Class: Powerful Performance Specs
When you're operating a luxury sedan, nothing should stop you from surging down the highway. Fortunately, the 2021 BMW 330i comes equipped with a 2.0L BMW TwinPower Turbo engine. With this, you'll whizz down the streets with these impressive performance specs:
Horsepower: 255 HP
Torque: 294 lb-ft
Acceleration (0-60 MPH): 5.6 seconds
The Mercedes-Benz C300 also comes with a 2.0L turbo engine that produces 255 horsepower. Where it falls behind the 330i, though, is with torque and acceleration. This engine only produces 273 lb-ft of torque and allows you to go from zero to 60 MPH in 5.7 seconds.
To ensure you can enjoy this power on nearly any terrain, both the 330i and C300 come with optional all-wheel drive (AWD) capabilities.
---
BMW 3 Series vs Mercedes C Class: Technology and Connectivity
While you're commanding the road, it's important that you're equipped with a view of your path. Tucked into the sleek cabin of the 2021 BMW 330i sits an 8.8-inch display with navigation functionalities, as well as the Connected Package Professional feature.
This feature includes aspects like:
Real-Time Traffic Information
On-Street Parking Information
Hazard Preview
Stolen Vehicle Recovery
And much more
Thanks to this feature, not only will you always have crystal-clear directions on how to reach your destination, but you'll also get there with as few hiccups as possible.
The 2021 Mercedes-Benz C300 presents a larger, 10.25-inch center screen, but navigation is an optional feature. Plus, with the C300, you won't get the same extra traffic or parking information like you get with the 330i.
---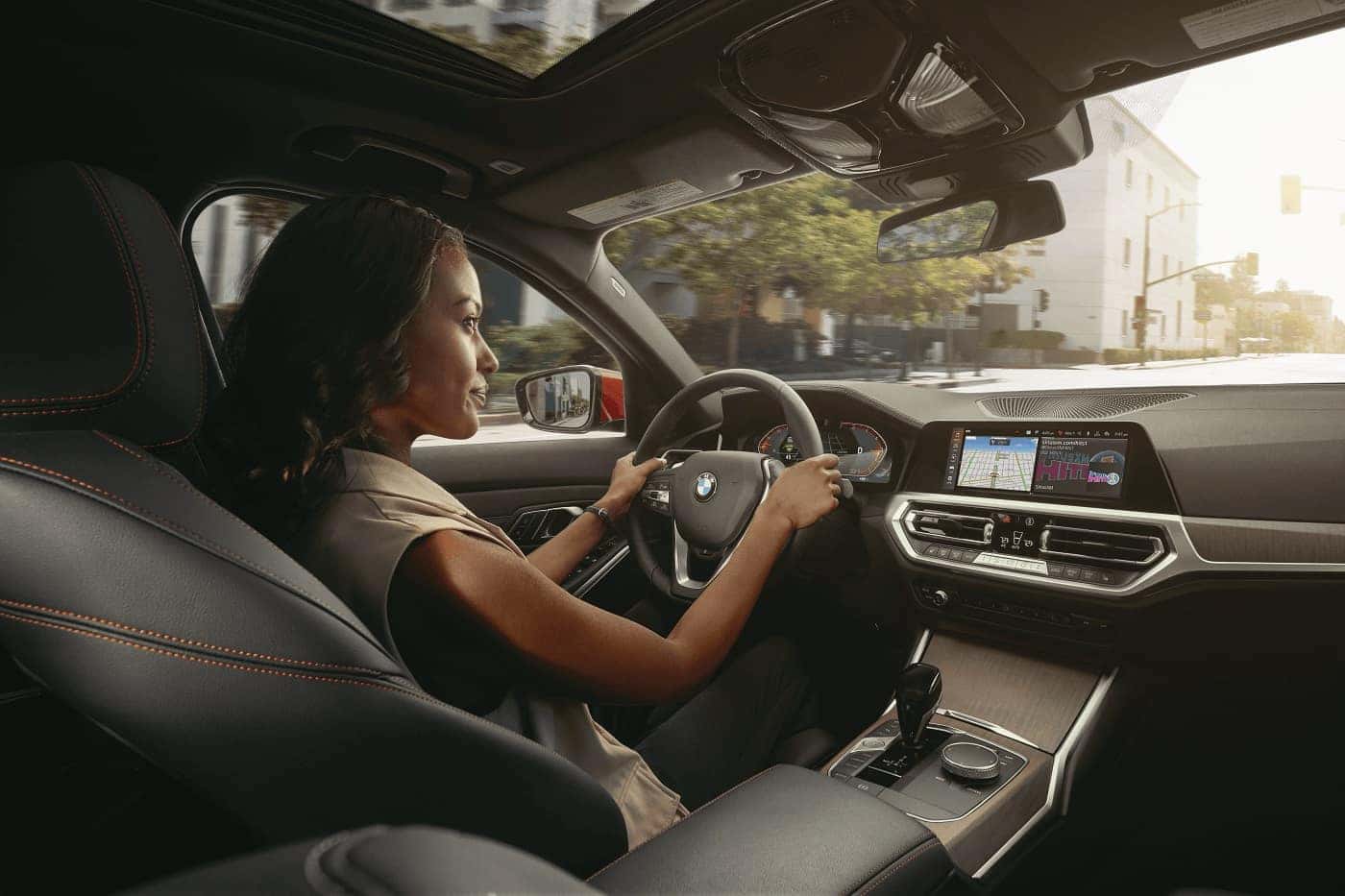 BMW 3 Series vs Mercedes C Class: Non-Stop Entertainment
When you want to bring your favorite tunes along for the ride, you'll be happy to know that both the 2021 BMW 3 Series and C300 come standard with Apple CarPlay™ and Android Auto, making it possible to use your display to select the digital features you want to listen to while on the go.
---
BMW 3 Series vs Mercedes C Class: Advanced Safety Features
Both BMW and Mercedes-Benz know that the safety of you and your passengers is the most important thing when traveling behind the wheel. That's why these sedans come standard with advanced safety features. To provide a range of protection around your vehicle, these safety features rely on cameras and sensors to monitor and alert you to potential hazards you may encounter.
The BMW 330i comes equipped with Active Guard. The C300 doesn't come with a specific suite of safety features, but still offers plenty of safety options.
Some of the features you can find in the BMW 300i includes Frontal Collision Warning and Automatic City Collision Mitigation and Braking. With this feature, a range is monitored ahead of your vehicle and can provide an alert, so you can make any necessary adjustments.
If there is no reaction to this alert, under certain circumstances automatic braking can step in and help avoid a collision.
A similar feature is offered with the C300, making both safe options.
---
BMW 3 Series vs Mercedes C Class: Dimensions
When purchasing a new vehicle, you must make sure there's enough room for you and your passengers to stretch out comfortably. Thankfully, both sedans provide plenty of space, thanks to their roomy dimensions.
Exteriorly, both vehicles are about the same length, with the C300 measuring in at 184.5 inches, while the 300i is slightly larger at 185.7 inches.
Let's take a look at how the overall size of these sedans affects the interior dimensions!
BMW 330i vs Mercedes-Benz C300 Interior Dimensions

Vehicle

330i

C300

Headroom (front/rear)

38.7/37.6 inches

37.1/37.1 inches

Legroom (front/rear)

42/35.2 inches

41.7/35.2 inches

Shoulder room (front/rear)

56/54.6 inches

55.3/55 inches
Both front- and rear-seat passengers will likely have an easier time stretching out in the BMW 330i than in the Mercedes-Benz C300 because of its larger size.
Plus, the 330i offers extra cargo space too. This sedan comes with 13 cubic feet of cargo space. The Mercedes-Benz C300, on the other hand, only has a maximum cargo capacity of 12.6 cubic feet. While that doesn't seem like a big difference, nearly half a cubic foot of cargo capacity means you can easily fit an extra bag into the trunk of your 330i when preparing for a road trip.
---
BMW 3 Series vs Mercedes C Class: Interior
Your ride to work should be supported by a host of comforting amenities. That's why the new BMW 330i includes 10-way power front sport seats with power side bolsters. With these features, you'll easily discover the best position for your unique proportions.
While the new Mercedes-Benz C300 also contains power-adjustable seats, these chairs don't provide the same amount of position selections and comfort as what you'd have inside the BMW 330i.
Plus, the 330i takes comfort a step further by offering Automatic 3-zone Climate Control as a standard feature. With this, you, your co-pilot, and your rear-seat passengers can independently set and adjust your climate settings throughout your commute.
The C300 only allows you and your front-seat passenger to make these independent changes, since it only comes with dual-zone automatic climate control.
---
BMW 3 Series vs Mercedes C Class: The Verdict
You deserve a vehicle that's as high achieving as you are. When it comes to comparing the BMW 330i vs. Mercedes-Benz C300, only the 2021 BMW 330i will make the most of every inch of the streets near Stratham, Portsmouth, and Exeter, New Hampshire.
Why wait around for this dynamic car to hit the road without you? Instead, stop by the showroom at BMW of Stratham or contact us to schedule your test drive today!
---