BMW Dealership Stratham NH

BMW of Stratham is a full-service BMW dealership in Stratham NH! From finding your next BMW to financing it and servicing it down the line, we are ready to help you with all of your automotive needs. Get started finding your next BMW by browsing our inventory right here on our website. To learn more about us and our services, continue reading the brief guide we put together below and don't hesitate to contact us with any questions!
New BMW Models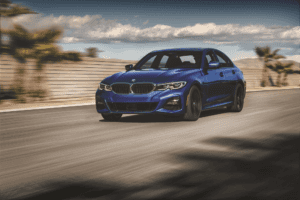 When you're on the hunt for an aggressive vehicle, you'll want a large selection to ensure that you find the car that's best for you. By choosing our dealership for your next BMW, you're doing just that.
Each member of our team knows the ins and outs of our BMW sedans, SUVs, wagons, and much more. That way, we can be sure to answer any questions you have regarding our inventory.
On top of that, our online lineup of cars provides details on what you'll find behind the wheel and under the hood of your ride. With this information, you can choose the vehicle with the specific engine power or infotainment gadgets that you need.
Peruse what we have in stock currently by utilizing our easy-to-use online search tools today. Then, once you choose your favorite models, stop by our lot and get behind the wheel for yourself when you schedule a test drive.
Trade in Your Car for a New BMW
There are many reasons why it's better to sell your vehicle to a dealership. If you go at it alone, you'll usually make a listing online and wait for someone to express interest, which can sometimes take weeks or months, depending on the vehicle's demand.
You'll also need to make sure the car constantly stays clean, as potential buyers can call to see it at a moment's notice. Plus, you must make yourself available to answer any questions and have the person take it for a test drive. Furthermore, if someone is ready to buy the automobile, you'll have to go to the DMV yourself to process the paperwork and complete the state inspection.
Luckily, if you sell your car to a BMW dealership like ours, you won't need to do any of that. After we buy your vehicle, we'll do all the hard work, so you can simply focus on the important (and more fun) part – what car you'll be buying next.
BMW Financing

While you're doing your shopping online, you can easily connect to our BMW financial services and pre-qualify for your next loan or lease. Once you complete the application, our team will reach out to you to discuss your options.
And when you're ready to purchase your car, our finance department will be ready to find a payment plan that fits your lifestyle. Best of all, we work will all types of credit scores, so you can get the vehicle of your dreams.
This is because we have built strong relationships with our lenders, meaning we can fight for your needs to find you the best plan available.
Other Online Tools
Along with our listed inventory or finance application, our website also holds tons of resources that come greatly in handy when in the market for your next vehicle. You can value your trade-in, as well as use our payment calculator to estimate monthly installments.
Additionally, we also offer a library full of articles that are great for researching before you head to our BMW dealership. You can even check out any special offers or deals we currently have available and check out our college grad and military programs to see if you're eligible.
Service Your BMW
A healthy car is the key to an enjoyable ride. That's why we offer a state-of-the-art facility outfitted with progressive equipment, as well as a team of expert mechanics who will perform any service you need.
Whether you're visiting us for routine maintenance or an emergency repair, we'll have your BMW fixed up and back on the road in no time. Need an appointment? Check out our service scheduler where you can easily reserve a date and time to come see us.
What We Love About Serving Stratham NH
Consisting of just over 7,200 residents, the idyllic town of Stratham, NH, offers a picturesque setting that's perfect for raising a family. Plus, as the headquarters for many unique destinations, this village keeps both kids and adults entertained throughout the year.
Sink your teeth into the incredible selection of confections found at the Lindt & Sprüngli factory. As Lindt's only location in the United States, this is a site to behold and offers an outlet where you can buy truffles, chocolate bars, and much more.
Great Bay National Estuarine Research Reserve provides a remarkable look at the landscape surrounding this town's bay. The trails and waters are open to the public for hiking and boating, making this a great location to take your kids for an outdoor adventure.
While the quaint sidewalks and trails of this community are ideal for walking, you'll want a stylish vehicle for a relaxing ride to your planned activities. For just that, head over to BMW of Stratham. We'll have you on your way to all the events of this wonderful town in no time.
Contact BMW of Stratham Today
Our dealership knows that life with a family can be hectic at times. With our friendly staff, you'll have the assistance needed to keep you stress-free and satisfied during your car-buying process. Plus, finding your new or pre-owned BMW with the tools you need couldn't be simpler for drivers of this wonderful area.
So, when you're ready for a class-leading vehicle that you'll love driving, stop by our dealership or schedule a test drive today!