BMW Series Comparison
BMW is known for producing highly powerful and stylish vehicles that are filled with all kinds of notable features.
This includes the BMW Series, a collection of seven Coupes, Gran Coupes (sedans), and Convertibles. You may be wondering, though, which car would work well with your lifestyle in Stratham, Portsmouth, or Exeter.
We'll gladly help you out with this BMW Series comparison. Below, we'll cover three major categories and show how these different models fare against one another. Then, you can always contact Ira BMW of Stratham to see your favorites in person.
Dynamic Performance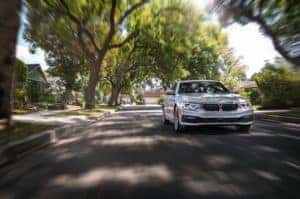 While each BMW Series model offers an impressive performance, the 7 Series and 8 Series take it to another level. That's because the super luxury car and luxury sports car offer powerful engine lineups along with smooth rides.
The BMW 8 Series comes standard with a 3.0L BMW TwinPower 6-cylinder that delivers 335 horsepower and 368 lb-ft of torque. For even more muscle, there's the available 4.4L BMW M Performance TwinPower Turbo V8. This engine produces 523 horsepower and 553 lb-ft of torque, so that you can easily handle just about any driving scenario.
Like the 8 Series, the BMW 7 Series comes standard with a 3.0L BMW TwinPower Turbo 6-cylinder engine. While this one also delivers 335 horsepower, it gives you 330 lb-ft of torque.
This model offers a 4.4L BMW TwinPower Turbo V8, too. However, the engine churns out 600 horsepower and 590 lb-ft of torque and can help the vehicle go from 0-60 MPH in just 3.5 seconds. So, if you're looking to zip down Route 33 or Route 108, you could do so easily in the 7 Series.
Passenger & Cargo Room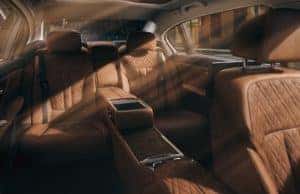 Whether you're commuting solo to work or taking the kids to school, it helps to have a vehicle with a spacious and comfortable interior.
With the BMW 5 Series being a midsize sedan and the BMW 6 Series being a large one, you'll find more than enough space for you and your family.
Each vehicle seats five people among two rows. The 5 Series provides 41.4 inches of front legroom and 36.5 inches of rear legroom. In the 6 Series, you're looking at 41.1 inches of front legroom and 40.4 inches of rear legroom.
There's plenty of cargo room inside both models, too. The 5 Series is a sedan and boasts 18.7 cubic feet of trunk space. Meanwhile, the 6 Series is a hatchback (otherwise known as a Gran Turismo). This model has 31 cubic feet of cargo room behind the rear seats and 65 cubic feet when that row is folded down flat. Either way, you'll have plenty of space for backpacks, grocery bags, luggage, and more.
Cutting-Edge Technologies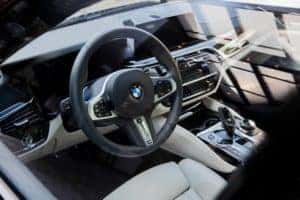 Finally, it helps to have lots of high-tech features inside your car to remain entertained and safer at all times. Whether you opt for the 2 Series, 3 Series, or 4 Series, you'll find said options for your everyday travels.
Each small car comes standard with an iDrive infotainment system that houses all your media options. This includes the standard HD Radio™. The AM/FM radio stations will come in clearer than ever, and you'll get to enjoy extra channels for even more listening options.
The 2 Series and 4 Series also come standard with a 1-year subscription to Apple CarPlay®. To use, just plug your phone into the vehicle's USB port. You can then send texts, access audiobooks, and more, without needing to touch your phone while driving.
This feature, meanwhile, is available in the 3 Series in a higher trim level.
As far as safety features, you'll find tons of driver-assisting technologies inside each of these BMW models.
The 2 Series and 4 Series come standard with an Active Driving Assistant, while the 3 Series comes standard with Active Guard. Both suites come with features like Frontal Collision Warning and Lane Departure Warning, so you can stay in your lane and avoid hitting any objects on the road.
Test Drive a BMW Series Model Today
As you can see, each vehicle in the BMW Series has a great deal to offer drivers like you throughout Stratham, Portsmouth, and Exeter.
If you need help making a final decision, stop by Ira BMW of Stratham. We'll have you test drive a few models and find your next new ride in no time! Contact us today!