BMW Standard Warranty
Here at BMW of Stratham, we cater to the needs of every driver from the Stratham, Portsmouth, and Exeter areas who comes to our dealership looking for their next car. From guiding you toward the new BMW that fits your lifestyle best to helping you dot all the Is and cross all the Ts on the paperwork of your personalized payment plan, we make sure that your customer service experience is top notch.
We also want you to know that we have your back in more ways than one with our exclusive warranties. The BMW Standard Warranty and other protection plans give you added peace of mind, making your driving experience all the more convenient.
What Is the BMW Standard Warranty?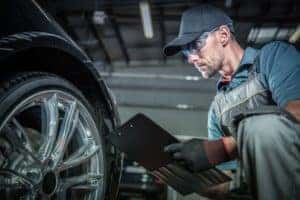 The BMW Standard—or factory—Warranty covers you in case there are unforeseen issues that your new BMW needs to get remedied. This includes a Corrosion/Rust Warranty that lasts for 12 years/unlimited miles. If your car experiences rust due to any defects, you will be protected.
You'll also have a Federal Emissions Warranty for eight years or 80,000 miles, which will cover you if the vehicle doesn't meet the EPA-required emissions standards. If your BMW experiences a problem with its engine, transmission/transaxle, transfer case, or drivetrain within the first four years or 50,000 miles, you'll also be covered with the Powertrain Warranty, which is part of the factory warranty.
Another warranty that's included with your new BMW is a bumper-to-bumper Limited Factory Warranty. This 4-year/50,000-mile warranty will cover repairs to correct any defects on or in the vehicle. Finally, the last component of the BMW Standard Warranty is a 3-year/36,000-mile Manufacturer's Recommended Maintenance, which includes services for select routine maintenance procedures.
Learn About Other Incentives and Programs

When it comes time to buy or lease your new BMW, our team of finance experts will sit down with you and go through each step of the process, ending it all with a payment plan you're satisfied with.
We'll also be able to detail more specifics as to what the BMW Standard Warranty includes as well as explain the other options available to you. Whether you want an extended warranty on top of the factory warranty or you want our BMW Extended Vehicle Protection for more coverage and assistance, we will gladly explain all that we have to offer each driver who purchases a new BMW with us.
There are even more ways to save with a variety of specials, not to mention our College Graduate and Military Incentives.
Start Shopping for a New BMW Today!
When you choose to buy or lease a new BMW with us, you're not only getting a car designed with precision and elegance—you'll also be driving on the roads of Stratham, Portsmouth, and Exeter knowing that you'll be covered in case anything unexpected happens to your car.
Stop by to visit us at BMW of Stratham to start your search for a new car, and schedule a test drive today!