2021 BMW X3 vs BMW X5 Quick Facts

Vehicle

X3

X5

EPA-estimated MPG

25 city/29 highway MPG

21 city/26 highway MPG

Number of seats

5

5/7, optional

Horsepower

248 HP

335 HP

Length/width/height

185.9/74.4/66 inches

194.3/78.9/68.7 inches
---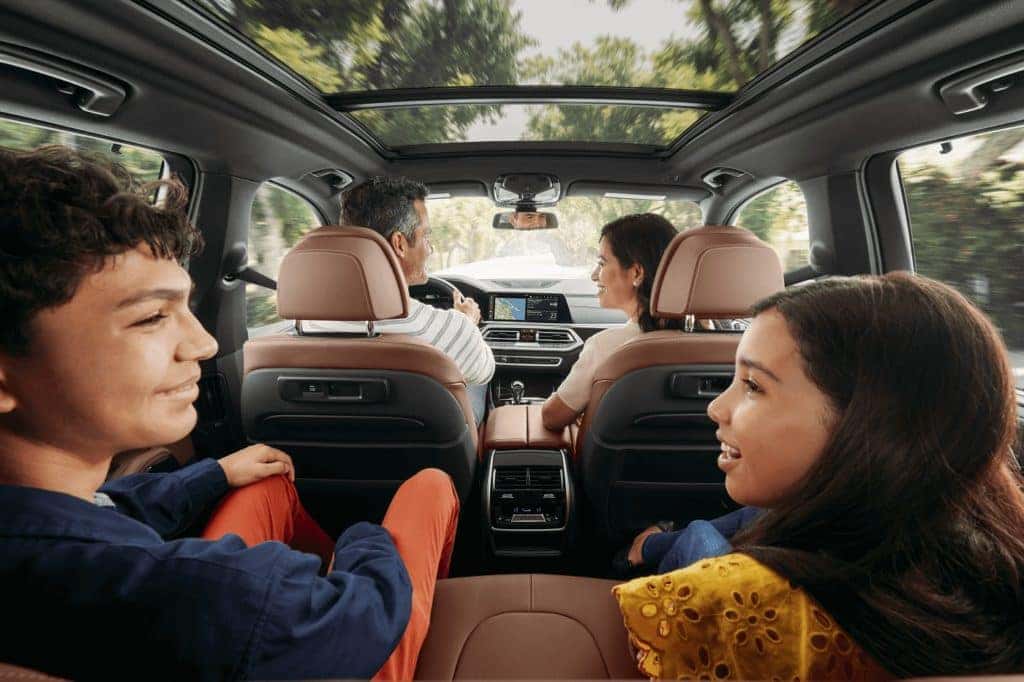 BMW X3 vs BMW X5: Interior & Exterior Dimensions
One of the many benefits to driving an SAV® is taking advantage of the extra space it provides. Whether you're a growing family in need of the extra space, do a lot of traveling and need room for your getaway gear, or you're involved with your kids' after-school clubs and sports and need carpool room, an SAV® is there to give you the space you need.
How much space there is inside the cabin of an SAV® is often determined by the overall size of the SAV®. Let's compare the exterior dimensions of these two vehicles:
Length (X3/X5): 185.9/194.3 inches
Width (X3/X5): 74.4/78.9 inches
Height (X3/X5): 66/68.7 inches
These exterior dimensions make it possible to get around town with ease while still providing ample space for interior travels. The decision you must make is whether you want an SAV® that's a bit more compact, like the X3, or one that's a bit larger on the outside, like the X5.
Whether you choose the X3 or X5, both models come equipped with spacious interiors. Let's take a look!
BMW X3 vs X5 Interior Dimensions

Vehicle

X3

X5

Headroom (front/rear)

41.1/38.5 inches

40.7/39.4 inches

Legroom (front/rear)

40.3/36.4 inches

39.8/37.4 inches

Shoulder room (front/rear)

57.6/56 inches

60/58.1 inches
Both the X3 and X5 have their benefits when it comes to interior dimensions. Front-seat passengers of the X3 will have extra headroom and legroom than front-seat passengers of the X5. On the other hand, the X5 comes with an optional third row, allowing up to seven passengers to travel inside this vehicle.
In terms of cargo space with the 2021 BMW X3, you'll be armed with an impressive 62.7 cubic feet of storage space with the rear seats folded down. On top of that, the back row provides split-folding technology, so you can easily customize the interior of this SAV® to suit any type of item.
For even more cargo and passenger capacity, the 2021 BMW X5 includes an available third row and 72.3 cubic feet of cargo space. With this kind of space, you can bring along a few friends to your favorite vacation spot.
---
BMW X3 vs BMW X5: Interior Features
If you're opting for a vehicle as renowned as a BMW, it's no surprise that you'll be furnished with top-notch features and plenty of room for all your belongings. Let's compare the interiors of the BMW X3 and BMW X5.
Inside the body of the X3, you'll have your choice of either SensaTec upholstery or optional Vernasca leather. Similarly, the X5 also comes with a choice of either SensaTec or Vernasca leather upholstery, as well as a third Merino leather upholstery option.
On top of the premium upholstery options, both the X3 and X5 shine in their own way.
For example, the 2021 X3 comes with Automatic 3-zone Climate Control, 10-way power front seats, and an optional panoramic moonroof.
The 2021 X5 comes with premium features, like 3-stage heated front seats, multi-color ambient lighting, and optional Automatic 4-zone Climate Control.
No matter which SAV® you choose, you'll have a long list of luxurious amenities by your side.
---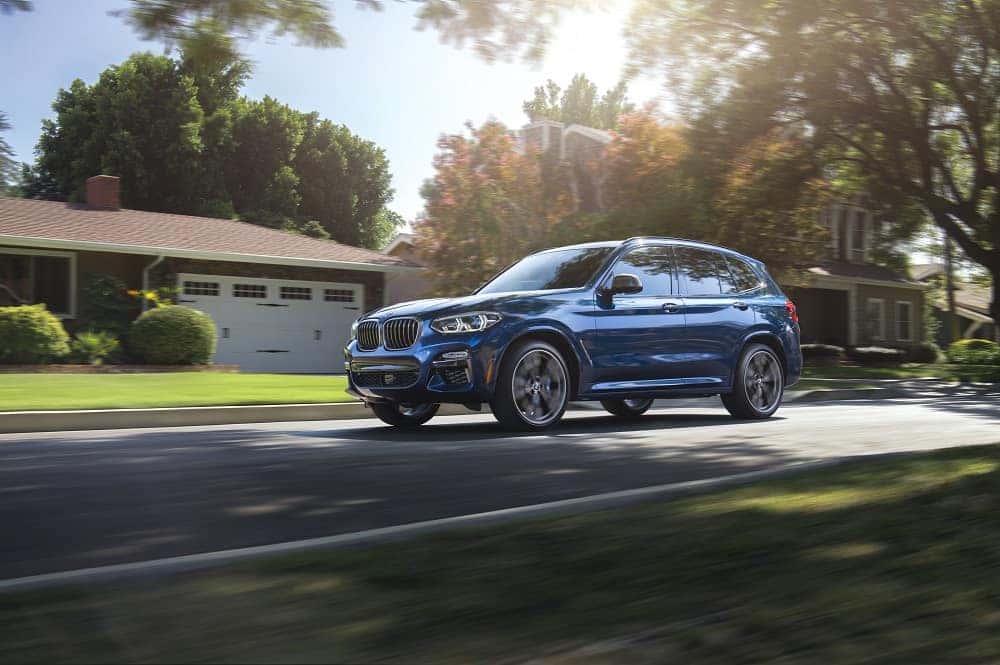 BMW X3 vs BMW X5: Performance Specs
Behind the wheel of either the 2021 BMW X3 or the 2021 BMW X5, you'll lead any pack, thanks to the 8-speed automatic transmission and steering wheel-mounted paddle shifters.
To harness the expert handling of its transmission, the 2021 BMW X3 packs a punch of force with its standard 2.0L BMW TwinPower Turbo engine that zooms across the highway with 248 horsepower and 258 lb-ft of torque.
For a little extra oomph, the X3 is also offered with an optional 3.0L BMW M TwinPower Turbo engine, capable of producing 382 horsepower and 368 lb-ft of torque.
If you happen to be looking for the strength of an experienced race car, the 2021 BMW X5 surges forward with its standard 3.0L BMW TwinPower Turbo engine that churns out 335 horsepower and 331 lb-ft of torque.
Like the X3, the 2021 X5 also comes with an optional M-Performance engine. This 4.4L BMW M TwinPower Turbo V8 engine produces 523 horsepower and 553 lb-ft of torque. With this model, you'll make simple work of quick maneuvers through traffic.
---
BMW X3 vs BMW X5: Technology & Innovation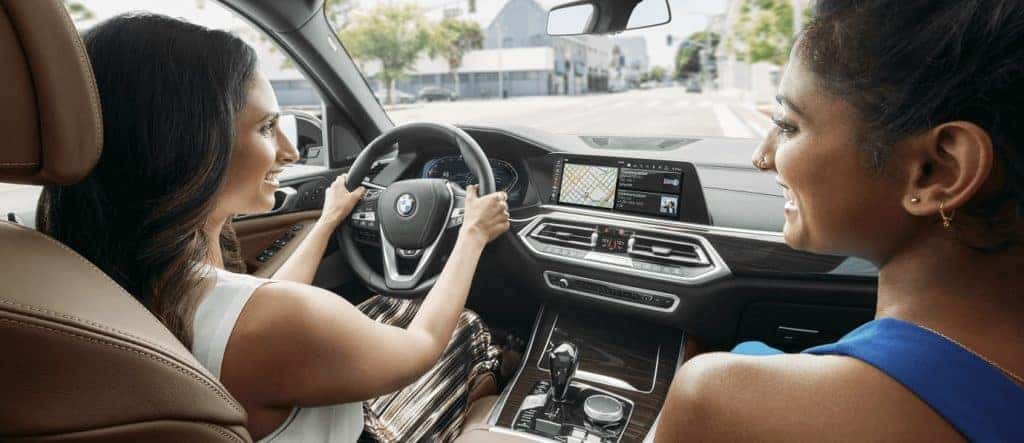 When you're traversing new roads, it's important to be supported by an intelligent system that will guide you along every curve.
Luckily, both the 2021 BMW X3 and 2021 BMW X5 offer navigation systems outfitted with intuitive tools, such as Real-Time Traffic Information. With this convenience, your route will automatically update based on traffic and road conditions.
In addition, both models contain high-tech standard amenities, like Apple CarPlay™, a HiFi Sound System with 12 speakers in the X3 and 10 speakers in the X5, and a 1-year All Access subscription to SiriusXM®.
---
BMW X3 vs BMW X5: The Verdict
At BMW of Stratham, we believe your family deserves the best of the best along your journeys through Stratham, Portsmouth, and Exeter, New Hampshire. After reading through our BMW X3 vs. BMW X5 review, you can see that both vehicles are sure to give your commute the upgrade it needs.
Since both vehicles offer similar features, the best way to decide which one matches your needs is to visit us in person. Take an up-close tour of each vehicle, then take it for a spin to decide which SAV® makes you feel utterly confident.
What are you waiting for? Contact us to schedule your test drive today!
---