BMW X5 MPG

If you're looking for a powerful and fuel-efficient vehicle, then the BMW X5 is a great option to consider. There are a couple engines to choose from, with each one offering impressive power and fuel economy ratings. Overall, this vehicle will give you the performance you need for long drives around Stratham, Portsmouth, and Exeter.
Below, we'll give you the exact BMW X5 MPG ratings for the 2019 model. Read through our informative guide, then contact BMW of Stratham to experience this SUV's impressive fuel economy for yourself.
BMW X5 Fuel Economy Ratings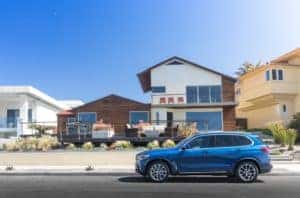 The 2019 BMW X5 has two MPG ratings, based on which engine you opt for:
20 city/26 highway MPG
17 city/22 highway MPG
The first rating is for when you have the 3.0L TwinPower Turbo 6-cylinder engine. Then the second one is for the 4.4L TwinPower Turbo V8 engine.
There are many features that contribute to the vehicle's fuel-efficient performance. One of them is an Auto Start Stop function, which shuts the engine off when you come to a complete stop—helping you to save fuel. As soon as you let your foot off the brake, the car will turn back on in a seamless fashion.
All About the BMW X5 Engines
Each engine offers more for the 2019 X5 than just impressive fuel economy ratings. In fact, you'll get the power you need to handle any driving scenario with ease.
The vehicle comes standard with a 3.0L TwinPower Turbo 6-cylinder that delivers 335 horsepower and 330 lb-ft of torque.
If you're wanting even more power, feel free to upgrade to the 4.4L TwinPower Turbo V8. This engine churns out 456 horsepower and 479 lb-ft of torque and can help the X5 go from 0-60 MPH in just 4.6 seconds.
Furthermore, each engine is mated to an 8-speed STEPTRONIC Automatic transmission with Sport and Manual shift modes. This component has a wider ratio spread and new control electronics to give the powertrain even more efficiency.
Other Performance Specs in the X5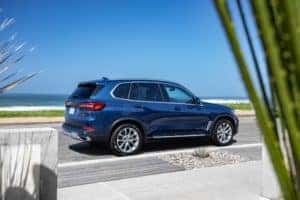 Overall, the BMW X5 is a great vehicle to drive. It's sure-footed and agile, while also having a taut suspension that keeps body roll in check.
Plus, it has many performance features that'll enhance your driving experience. One of them is an available Dynamic Damper Control. It'll instantly adjust the shock absorbers from their softest to firmest settings. Therefore, you can choose a ride that's smooth and comfortable for cruising, or one that's sporty and firm for a more spirited drive.
As we mentioned before, body roll is kept to a minimum in the BMW X5. This is thanks to a performance-elevating Active Roll Stabilization. It incorporates electric swivel motors to generate a stronger resistance to body roll.
Additionally, the X5 comes standard in xDrive. This intelligent all-wheel drive (AWD) system can split torque among the front and rear wheels with great precision and speed. It'll do this before wheel slip occurs to help keep you on your intended path. Then, when AWD isn't needed, the system can shift 100% of the power to the rear wheels for added efficiency.
Test Drive the 2019 BMW X5
Not only are the BMW X5 MPG ratings notable, but its overall performance will help you enjoy your drives more.
If you want to experience this vehicle near Stratham, Portsmouth, or Exeter, don't wait. Schedule a test drive at BMW of Stratham today!