Car Battery Light On

---
It's happened to so many of us. We start our cars and start driving when we notice that there's a square light on our dashboard. It looks like a battery. In fact, it is a battery warning light! What now?
BMW of Stratham is here to help drivers learn about why their car battery lights may be on and what drivers around Stratham, Portsmouth, and Exeter, New Hampshire, can do about it.
---
​
What's It Mean When My Car's Battery Light Comes On?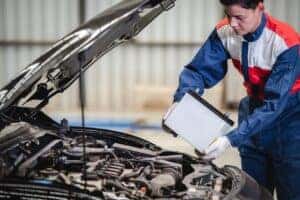 Car battery lights come on whenever you turn on your vehicle. If it continues to stay on after a few seconds, this can indicate an issue with your battery. There are several reasons your battery light may come on, but the most common is a connection/charging issue between your car's alternator and the battery.
Other reasons your vehicle's battery light may be on include:
Damaged alternator or battery
Loose cables
Corroded battery terminals
Vehicle wiring problem
Batteries can also experience a buildup of grime or corrosion on the battery terminals. If the grime is removed, the battery may function again. Check your battery by removing the top of the battery around the terminals.
If there is a white or green substance there, it can indicate your battery is corroded. Do not touch it with your bare hands. You can disconnect the battery and clean the terminal with gloves on—or bring your vehicle to a service center for a technician to clean.
Can I Drive My Car With Its Battery Light On?
Your vehicle can be driven with its dashboard battery light on. However, you may not be able to drive it for too long. As we mentioned, when your battery light is on, it's likely your battery isn't being charged by your alternator properly.
Once your battery runs out of juice, your vehicle's engine will stop working. On average, this happens within an hour, although various factors can change how long your car will be able to charge for.
It's advisable to get to a service center for a replacement or diagnosis of the problem as soon as possible.
Car Battery Service at BMW of Stratham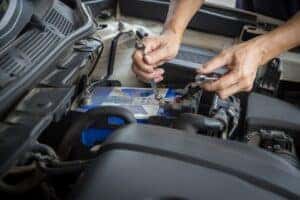 If your vehicle's car battery light comes in, the best thing you can do is bring it to a service center for a check-up. Our service center has highly trained technicians that can diagnose battery problems and replace your vehicle's battery if needed. We can test your battery to determine if it needs to be replaced or should be soon, as well as any other possible issues going on with battery connections to your vehicle.
While you wait for your vehicle to be serviced, take advantage of our comfortable lounge area and free Wi-Fi. Need to get work done? Our private workstations are available so you can stay connected.
---
Visit Our BMW Service Center in Stratham NH
If your battery dashboard light is on, the team at BMW of Stratham is here to help. Drivers around Stratham, Portsmouth, and Exeter, NH, can rely on us to get you back on the road with any necessary repairs or replacement batteries.
Scheduling an appointment is easy. Give us a call or use our online scheduler today.
---
​