MoJo's: Your Neighborhood Sports Bar

For a good meal and a great time out in Portsmouth, there's MoJo's BBQ Grill & Tavern. This bar/restaurant is a favorite among the locals. Whether the game is on TV or you just want to hang out with friends, any time is a good time to visit.
We'll tell you all about it in this community spotlight. Then, be sure to stop by the next time you're out and about.
What MoJo's Is All About
Mojo's was founded in 2007 and originally focused solely on BBQ. In 2010, Aaron Jones and his wife Carrie Law-Jones expanded the menu to offer burgers, pizza, tacos, and more—in addition to their award-winning BBQ.
In 2016, the space expanded to become what is now the largest sports bar and family restaurant in Portsmouth. It's here that you'll find delicious food, great drinks, and a fun atmosphere—all to be "The Best Game in Town."
Specials and Events
Part of what makes this place so popular is the variety of specials and events that they offer. For instance, the daily specials for the first half of the week are like so:
Monday: $6 half-pound burger and a beer
Tuesday: $12 all-you-can-eat wings and $5 32-oz. select draft pitchers
Wednesday: $5 10-inch hand-tossed cheese pizza and $3 16-oz. Shock Top drafts
If you're in the food and service industry, you'll get 50 percent off food and drinks on Sundays. Plus, ladies will want to visit Saturday nights, where from 8:00 PM to 12:00 AM they get 50 percent off all food and drinks.
Extensive Drink and Food Menu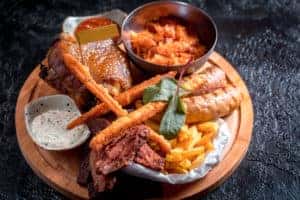 When it comes to the food and drink menu, there's something for everyone to enjoy. This includes a draft beer list that offers options like a Harpoon IPA or a Guinness Stout.
The food menu is then quite extensive—here's just a sampling of it:
Starting Lineup
Bucket O' Bacon: thick-cut, pecanwood smoked bacon and sriracha maple dijon.
Giant Warm Pretzel Sticks: aged cheddar cheese sauce, honey peppercorn beer mustard, and sea salt.
Fried Mozzarella: topped with shaved parmesan and served with marinara sauce.
BBQ
"Fall Off the Bone" Ribs: St. Louis ribs cooked to perfection then finished on the fire grill and slop mopped with their arkansawce.
Pulled BBQ Chicken Platter: fire-braised tender chicken tossed with arkansawce.
BBQ Combo Platter: half slab of St. Louis ribs and slow smoked pulled pork.
MoJo's Favorites
Southern Fried Chicken: honey-dipped, battered and fried chicken with pan gravy, Yukon gold mashed potatoes, slaw, and cornbread.
Pulled Pork Burrito: slow smoked pork, dirty rice, jack cheddar, BBQ beans, pico de gallo, and sour cream.
Fire Grilled Steak Tips: Balsamic BBQ marinade, Yukon gold mashed potatoes, and daily vegetable.
Visit This Portsmouth NH Hot Spot Today
After reading through a part of the menu, we're sure your mouth is starting to water. Learn more on MoJo's Facebook page, then stop by for dinner or drinks today!