Why Are My Brakes Squeaking?

Are you hearing a distinct squeaking or squealing sound when you apply your brakes? Many things can cause this. The folks at BMW of Stratham have developed the following rundown of possible causes in order to help drivers in Stratham, Portsmouth and Exeter get a better understanding of their brake systems, as well as what they can do when their brakes start to squeak.
Feel free to check with one of our automotive technicians or schedule brake service if your brakes are squeaking or squealing. Continue reading to learn more or give our service center a call at 603-395-2727 today!
How Your Brakes Work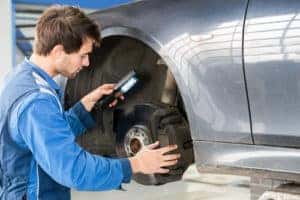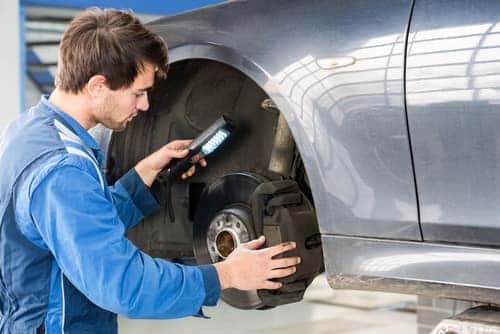 To understand what might cause them to squeak, let's first review the inner workings of the brakes themselves.
A brake is made up of a rotor, or disc, situated between two brake pads. These brake pads clamp down on the rotor to slow or stop your car when you push your foot down on the brake pedal.
While the rotor is cast-iron, brake pads are most commonly made up of a combination of iron, steel and copper.
Causes of Squeaking Brakes:
1. New Brake Parts
It is quite common for new rotors or brake pads to squeak within the first few days before they're completely broken in. If it has been more than a few days and the squeaking still hasn't stopped, you should have your brakes looked at by a professional.
2. Damp Brake Pads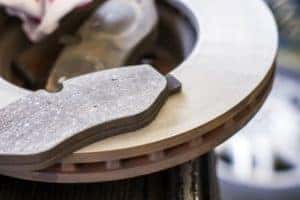 Brakes often squeak when moisture gets onto the brake pads. If you're hearing a noise shortly after it has rained or in the morning when there is dew on the ground, the resulting moisture could likely be the cause. These noises should go away once all of the water has been swept away from the surface of the brake pad.
3. Brake Wear Indicators
Most brake pads are designed with steel clips in them called wear indicators. As the name suggests, their sole purpose is to alert you to when the brake pad needs to be replaced. When the pad wears down to one of these clips, the resulting irritating sound like squeaking or squealing, you hear lets you know it's time to take your car in to get new brake pads.
4. Worn Brake Pad Insulation and Loose Parts
Squeaking can also happen when the material that insulates your brake pads starts to wear down as well as when hoses or rotors come loose.
5. Glazed Brakes
Glazing can occur when the entire brake system gets stuck due to too much friction. An example of this is when you're riding your brakes while going down a hill. Heat builds up and causes your brakes to harden and not perform as well.
Schedule Brake Repair with BMW of Stratham Today!
Generally speaking, brakes can last between 25,000 to 70,000 miles. However, the individual quality of your brakes, driving behaviors and normal wear and tear can combine to greatly reduce the lifespan of your brakes.
If you're in the area of Stratham, Portsmouth and Exeter and your brakes are telling you they're about due to be replaced, contact BMW of Stratham today to schedule your service appointment or Call our service center!
Our Reviews:
---