BMW Dealership near Portsmouth NH

At our BMW dealer near Portsmouth, NH, you'll find the luxurious and stylish BMW you're searching for! Get started by easily browsing our entire BMW inventory online here or visit our showroom today! Give us a call at 603-772-0000 with any questions that may arise when reading through our brief services guide below!
Our BMW Sedan, SUV & Sports Car Inventory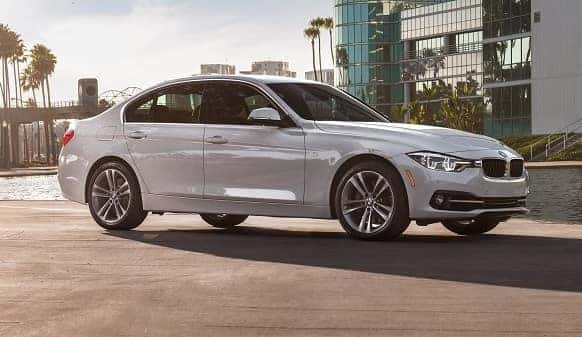 Finding your ideal vehicle is tough if you don't have access to a wide selection. When you choose our Portsmouth BMW dealership for your next luxury sedan, SUV, wagon, or any other type of car, you'll be provided with a vast inventory. That way, you can easily locate the BMW model that best fits your lifestyle.
On top of that, our showroom experts can fill you in on the details of any of our showroom rides, so you're not left in the dark about all the options available to you. If it's time for you to get a new BMW, but you can't find the time to stop by our dealership, our online lineup offers everything you need to make an informed decision.
Whether you're searching for a new, pre-owned, or certified pre-owned vehicle, each listing contains information on the advanced features included in our cars. Also, you can easily view the fuel efficiency numbers for each of our choices so you can get your hands on an environmentally friendly ride.
Financing Your BMW

Furthermore, each page allows you to access our pre-approval form. That way, you can get a jump start on your BMW financing journey and find the perfect loan or lease option that fits your needs. Simply fill in some basic information and a member of our financing team will contact you to discuss your options.
Along with our application to get pre-approved for financing, we also provide other helpful tools for you to use. You can get a good idea of the monthly payment you will have with our payment calculator, or, if you are looking to trade-in your current car, our Value Your Trade tool will give you a great estimated price of what your car is worth.
Once you're ready to drive away in your car, our on-site staff will help you find a payment plan that aligns with your budget. They are dedicated to working on securing you a fair loan or lease terms that are catered to your individual driving needs.
They will even help you save more by seeing if you qualify for certain incentives that we have in place for recent college graduates and military personnel.
Researching Various BMW Models
Before you even stop by our showroom, doing thorough research can also help you confidently make a decision on the BMW you want to get.
If you are unsure of which model you want or have the model picked out but still haven't decided on the trim level that is right for you, our informative and easy-to-follow BMW car reviews are a great place to start. In our reviews, you'll find detailed information on the specs, features, and technology of various BMW models. By reading these guides, you can determine which BMW best suits your automotive needs for your trips around Portsmouth.
We also have vehicle comparisons that show you a clear side-by-side view of various BMW models next to other similar vehicles to show you what is unique about them.
Then, after you have read through these resources, you can bring whatever specific questions you have to our team in our showroom, and they will be happy to dive deeper into the various components of the model you are interested in.
Service Your BMW in Portsmouth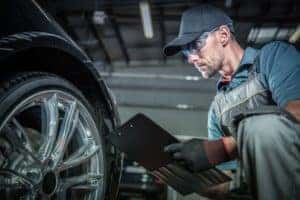 When your new BMW needs its first checkup, you can feel confident that our advanced service center will guide you through every maintenance and repair appointment. In addition, our facility has a full supply of genuine parts for any replacement you need. If you ever want to quickly schedule a checkup for your car, you can do by reserving a date and time online. Once we receive the details of your appointment, our staff will reach out to confirm with you.
We also want to fit into your schedule when it comes to servicing your car. This is why we have convenient morning and Saturday hours. And when it comes to routine maintenance that your BMW needs, we will diligently work on your car and get you back out on the roads of Portsmouth as quickly as possible with our BMW FastService®.
You can take advantage of this convenient and fast service if you need:
Oil Service
Air Filter Replacement
Brake Pad Change
Tire Replacement
And more!
With expert service in an hour or less, you can have your car properly maintained by trained technicians who use 100% original BMW parts all while not missing out on other appointments you rely on your car to take you to!
Why We Love Serving Portsmouth NH
Since its settlement in 1623, Portsmouth, NH, has provided countless people with a seaside vacation destination. This town's dedication to preserving history and providing beautiful surroundings to its visitors has created a welcoming atmosphere filled with activities for the whole family.
This village's Market Square offers unique restaurants and shopping for tourists and sidewalk benches for enjoying the mild weather. Plus, many of the original 17th century buildings still stand, including North Church, which was originally built in 1657 and rebuilt in 1854.
If you'd prefer an outdoor adventure during your stay in Portsmouth, then head to Prescott Park. Filled with fountains and gardens, this park offers enough space for a game of fetch with your dog or a summertime festival.
Visit Our BMW Dealer near Portsmouth NH!
At our BMW dealership near Portsmouth, NH, we know that discovering your perfect vehicle can be stressful. With the assistance of our friendly staff, drivers of Portsmouth will have the support needed to head down the road in a luxurious new ride.
To learn more about every automobile and service we offer, stop by our showroom or schedule a test drive today!
Excellent service as always! Adam was extremely helpful. He does a great job with communicating status on the repair. I have gone to a BMW of Stratham for many years!
Fast service from ordering tires to installation on my car. Perfect service throughout. Comfortable waiting area but task was quickly accomplished. I highly recommend BMW Stratham and Pawel Czyz.
My appointment for service was timely, friendly and efficient. Very comfortable to enjoy the BMW cafe while waiting. Adam was terrific......he's ready to answer any concerns and goes that extra step to accommodate. Thought he was super!
Matt, my service advisor, was a pleasure to deal with. Good communication, explained all service work , good follow up and quick in and out. Highly recommended BMW service center.
Pawel Czyz has always been very professional and excellent with service of my 2015 BMW X3. I just had service; two new tires et al, replacement light, fluids topped. Thank you - much appreciated.
just scheduled routine service. I actually thought they washed the car is there and back and then when you brought them for service but that didn't happen. A little disappointed
I popped-up without an appointment and was surprised and pleased that they worked me on quickly, even with me waiting for my vehicle. My service advisor, Matthew Vafeas, could not have been more welcoming, cordial, even taking time to chat about my hopes for BMW electric vehicles to come. My vehicle was handled with care, washed and returned to me, and the cost was less than what had been advised. They're doing a lot right at Stratham BMW and they are my new shop.
Excellent service and very professional staff. Found a problem with one of the tires that could have led to a much larger issue! Very satisfied with all aspects of my service.
Overall a super experience. Easy in and out, loaner, great staff. My only complaint if that was a lack of cleaning. I was used to getting a vacuum and a wash/wipe down. Oh well. Great service, reasonable price and didn't find anything extra to fix... anyone say PCV valve...
---