Transmission Parts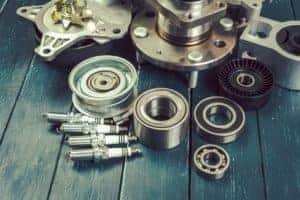 There are hundreds of parts inside a transmission, working together to keep the car moving. Transmission fluid is what keeps those parts cool and lubricated, so they can do their job properly. The fluid will prevent buildup in the transmission, as well.
Transmission fluid needs to get changed regularly. Otherwise, you're going to have a hard time shifting gears, a loss of acceleration, or possibly transmission failure.
So, when exactly do you need to get a transmission fluid change? That all depends on your car. Some need it every 30,000 miles, while others can wait as long as 100,000 miles.
To get the exact answer, check your owner's manual. Keep in mind that the number may vary based on your driving patterns. If you're in constant stop-and-go traffic, or if you often accelerate hard, then the transmission fluid may have to get replaced more often.
Transmission Fluid And Delay
There are several warning signs that'll determine if your transmission needs to be repaired or replaced.
If you see fluid under the car, then the transmission may be leaking. A loose transmission pan, worn seals or gaskets, or damaged bell housings may result in a leaking transmission.
The fluid usually has a slightly sweet or tart odor. If you notice a burnt smell, then the transmission could be burning. If the transmission overheats, it could break down completely, resulting in you needing a brand new one.
Another sign to look out for is a delay in movement. A transmission was designed to seamlessly go into the correct gear every time. If there's any type of delay when you shift gears in a manual or automatic, then there's an issue that needs to be addressed as soon as possible.